I have no problem admitting it – I love a gorgeous designer piece as much as the next gal, but often my wallet nudges me in the direction of more affordable options. If you are able to indulge in Louis Vuitton and Kate Spade bags then hey girl, you do you (and tell me your ways) – but for the rest of us, sometimes we have to find some options that won't break the bank.
I've been budget shopping since college and have finally composed a list of my favorite affordable shopping sites! I have found some wonderful quality hidden gems in these and I'm here to share the wealth with my fellow fashionistas.
Nasty Gal is one of those stores that I think everyone has stumbled across by now. If you haven't read their story and about their CEO, Sophia Amoruso, check out her book #GirlBoss (which she totally encompasses). Their clothes are bold and daring, so don't expect to find all your basics here. But in the right scenario, this is one of my favorite places to look for a new outfit.
You can't have a budget shopping list and not include Forever 21. If you're looking for trendy pieces that you know are likely to be out of style in 6 months to a year, this is the place for you. Another thing I love about F21 is their jewelry selection – it let's me try new statement pieces without the sometimes shocking price tag!
Boohoo is becoming one of my new favorite places to shop for trendy clothes. I'd like to say it's Forever 21's older, cooler cousin.
I'd say COS reminds me of a more mature H&M. It's slightly pricier than H&M, but I find the clothes are better quality and worth the little bit extra you'll pay.
Lulu's is one that most people know about, but I still feel it needs to be represented on the list. I have gotten everything from accessories, maxi dresses, party dresses, jump suits , etc. The list goes on. I'm always pleased with quality and the fit whenever I order from here!
I have been shopping at UrbanOG for a while because of their great deal on shoes! I think they've only been selling clothes now for a couple years now. While some of the items are hit and miss, this is one of those places if you search for it, you are likely to find a gem. And the shoes are fabulous – in college I bought a pair of riding boots that had a similar look to a pair of Vince Camuto boots!
Cheap dresses, tanks, accessories are just a couple of the reasons to love this store. They've got a great variety of inventory so there's something for everyone to find.

Romwe offers a great selection of the trendiest pieces you've been seeing all over Pinterest. With about 30 new arrivals daily, you will always find something you like!
OSAP is one of my new favorite websites. They have a huge inventory of items so you can definitely find something that will fit your style and budget.
29 & Under is another one of my go-to's because – you guessed it – everything is under $29! Their "what's new" section is constantly being updated so you're always seeing their brand new items.
There's a huge selection of bodycon dresses and faux leather–if that's not your style, there's still great bargains in there if you're willing to dig a little deeper.
Lily Boutique is usually where I start looking for a great affordable dress. Their lace dresses are some of my favorite I've seen online and they won't break the bank. They've got pieces that will take you from day to night, casual to fancy with just some changing of accessories.
This Australia store has got endless options from – you guessed it – cotton. What I love most about Cotton On is their basics. If you're looking for great layering pieces that will keep you through season to season, this is the place to shop. Plus free shipping on orders over $55!
I know, you're probably thinking, "Really? Rue 21? Their clothes are cheaper the Forever 21." And that's partly true. It's the same principle that if you're looking for some trendy pieces, this is a great place for them because they're priced so low, there's little commitment! That being said though, they do have adorable dresses – check out the one below I wore to my wedding rehearsal dinner!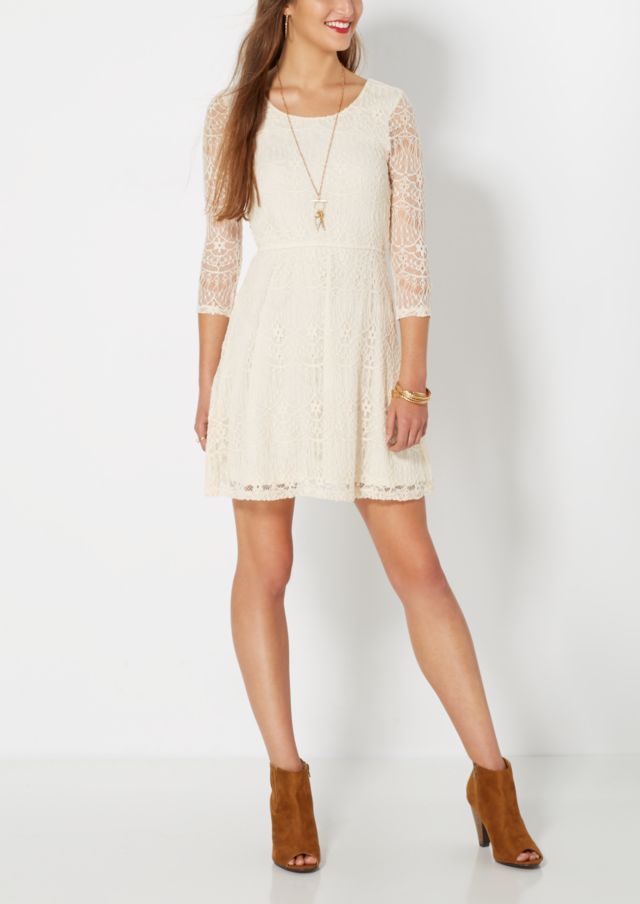 (no longer available – similar here)
Tobi adds a ton of new items EVERY SINGLE DAY (so here's hoping you have a huge disposable income… or a lot of restraint). Plus you get 50% off your first order!
If you haven't been to Old Navy recently, you need to stop whatever you're doing and head over there now. They are loaded with affordable basics, tons of cozy button ups (one of my favorites here (still in stock in certain sizes!)), and have become my new go-to for buying affordable and cute office clothes. With almost everything in the store is under $50, how can you go wrong?
Did I miss some of your favorites? Comment below and let me know what they are!